"Chinese Super-Auction"
Big News: the date for the NFRRS "Chinese Super-Auction" has been set! It is Sunday, Nov. 15 - 1pm-5pm at the Grapevine banquet hall (formerly the Hearthstone manor) 333 Dick Road, Depew.
Items are needed for the auction!
We need sports &theater tickets (e.g., bills, sabres, theatre, etc.) We also could use theme baskets, e.g., "pet," "Patriotic," "Buffalo," "Ethnic," "Garden," "auto," "Sports," "Snack," "liquor," "Wine," "movie night," "Kitchen," etc.
Thanks for your interest in the Niagara Frontier Radio Reading Service. If you might be interested in becoming a Radio Reading volunteer, please note that our NFRRS studios are located at 1199 Harlem Road in Cheektowaga, between William and Clinton. Typical volunteers come in for about 90 minutes to record a one-hour reading. There is no minimum requirement of volunteer hours. Some people come in once a week, once every two weeks or less frequently. Our studios are open for recording seven days a week. We record readings of books, magazines and newspapers, and do two-person "live" readings of daily newspapers. We normally have people interested in volunteering schedule a brief interview. If you might be interested in becoming a NFRRS volunteer, call us at 821-5555. Robert Sikorski, President, NFRRS
The Niagara Frontier Radio Reading Service P.O. Box 575, Buffalo, New York 14225 * (716) 821-5555 Niagara Frontier Radio Reading Service Studios are at 1199 Harlem Road 26 Years-- 200,000+ Hours-- of Giving the Blind a Chance to Read

The Niagara Frontier Radio Reading Service (NFRRS) gives daily access of printed matter to thousands of blind and print-handicapped persons throughout Western New York and Southern Ontario's Niagara Peninsula. Volunteers broadcast daily readings of newspapers, magazines, books, and vital information to listeners, who are all provided reading radios.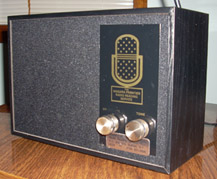 Since 1987, the NFRRS has broadcast 190,000 hours of radio readings. Regarded as one of the nation's finest radio reading services for the blind, and New York State's best radio reading service, the Niagara Frontier Radio Reading Service has compiled a track record of exemplary efficiency, productivity, and excellence.
NFRRS Honors include the Governor's Eleanor Roosevelt Community Service Award, the Buffalo Eye Bank Award (for service above and beyond the call of duty to the sight-impaired), and the J.C. Penny Golden Rule Award (for Western New York's outstanding volunteer service program).
The Niagara Frontier Radio Reading Service has become a trusted friend to those who face each day without sight, helping them become active members of society, and improving their quality of life. All listeners are provided a special receiver, which looks like a table-model radio. The receivers are tuned only to the NFRRS broadcast signal and provide instant, 24/7 access to a wide variety of printed matter.
If you, or someone you know, would benefit from our service, call (716) 821-5555.